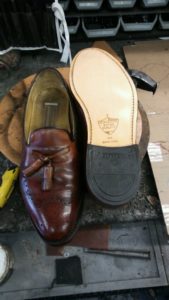 Soles and Heels
Over time, the soles and heels of shoes will wear away from their repeated contact with the ground.  A new set can breathe new life into your favorite pair, providing both improved stability and support.  We offer options for both men's and women's shoes in durable rubber or leather depending on your needs.
Cowboy Boots
We specialize in getting your boots back looking great.  Let us refurbish yours  to improve both fit and appearance.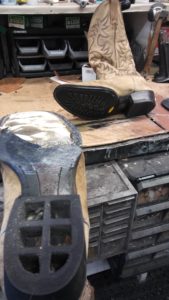 Coming Soon - More examples of the great work we do
Sole Guards
Protect your leather soles and give yourself more grip on slick surfaces with a thin rubber sole guard.
Shoe Stretching
We can stretch your leather shoes if they have gotten too tight.  We are also able to provide relief from common ailments related to corns and bunions.
Winterization
Get your shoes ready for the harsh winter conditions.
Luggage Repair
When the airlines are not as careful with your luggage as they should be, we can get those handles reattached.
Leather Work
Custom patches, dye work, and conditioning services are available.
And more...
In addition to shoe and leather repair, we also offer a wide variety of fabric repair services, including patches, stitching, and reconditioning.